This article was kindly reprinted with permission from our friends at Argon 18 Bikes.
The new E-119 Tri+ Disc features a fully redesigned cockpit, a collaboration between Argon 18 and 51 Speedshop. We spoke with Mat Steinmetz from 51 Speedshop to go behind the design – and got some fitting tips along the way!
A18: What made you want to work with Argon 18? Is there a similarity in your approach?
When Argon 18 reached out to 51 Speedshop to potentially collaborate on the front end of the new E-119 Tri+ Disc, my interest was piqued when they voiced their understanding of just how challenging it can be to design a cockpit that is fast, comfortable, and most importantly, highly adjustable. With this mutual understanding, I felt we could get to work.
Argon understands the value 51 Speedshop's expertise in rider: bike interaction can bring to the new E-119 Tri+ cockpit and how that can put their customers at a performance and comfort advantage. Our team at 51 Speedshop thrives on critical feedback, and Argon's internal engineering and product management teams provided timely insights that made this a high-functioning collaboration.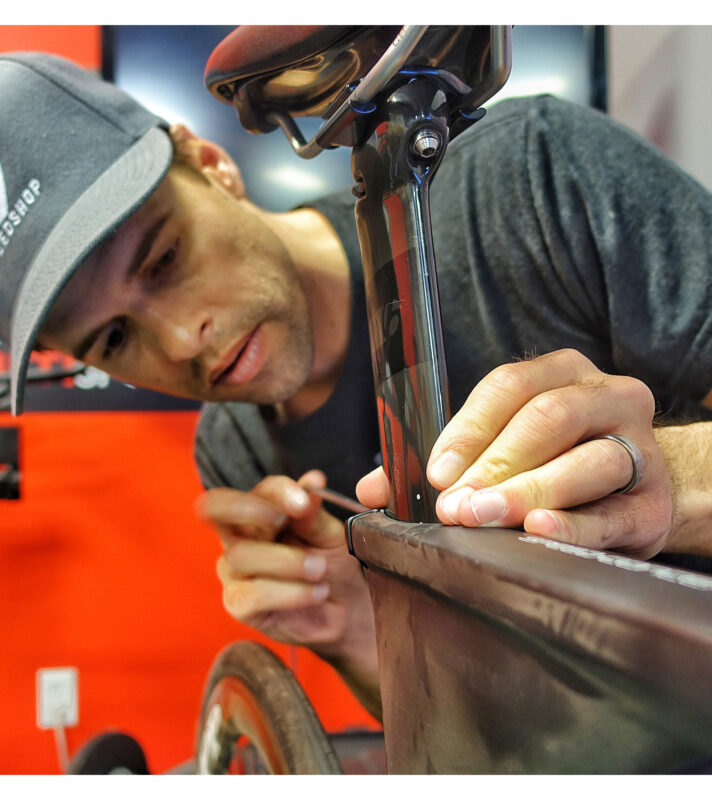 There are three contact points on the bike: pedal/shoe/crank, saddle, and handlebar. The handlebar is often the contact point that bike companies attempt to tackle on their own, especially as more front ends become proprietary to the bike. These contact points can make or break the success of the bike when a rider gets out on the road. I think we can all agree that if a saddle is uncomfortable, we can raise it, lower it, move it forward or back, change the tilt angle, or replace it to try something new. Because the same can't be said for the front end of the bike, it's now imperative that the attention and understanding put into designing and manufacturing a cockpit be led by a team of individuals with deep knowledge of the rider:bike interaction.
A18: What was the biggest success of the collaboration – what element of the new cockpit do you think triathletes will most appreciate?
When you start working on a front end, there are so many things to consider – we needed to think about the diverse set of individuals who will be riding this bike with a front end that cannot be easily swapped out. This is where the process began: how wide or narrow do the arm cups need to adjust; what if they want to swap the extensions; can they adjust the handlebar height, fore/aft adjustability, and bar angulation range? We needed to consider all of these aspects of the bar to ensure we didn't eliminate any customers who will want to ride the new E-119 Tri+ Disc bike.
Once we had a design in place, the Argon 18 engineering team went to work, providing extensive testing on both structural integrity and aerodynamics. They examined where we needed to add material and where we could reduce material to save weight. This was a true collaboration.
In the end, what I think triathletes will most appreciate is the simplicity of the front end. It's clean, light, easy to adjust, intuitive to work on and has a large fit window allowing athletes to dial in their fit.
A18: You've fit a huge range of athletes over the years. What's one tip you could share with our readers? Perhaps something that people often overlook?
My first recommendation would be to get a professional bike fit from an experienced fitter in your area. A bike fit is the biggest performance upgrade you can make to your bike. You're looking for SPEED = Sustainability + Power + Aerodynamics. In that order…

Sustainability/Comfort = The ability to sustain the aero position for the duration of the event. Comfort is relative to the individual and those that are new to the position will find it unnatural at first. However, the unique thing about the TT position is that it is highly adaptable the more time you put in.
Power (torque x angular velocity) = The ability to apply force to the pedals without restriction. This is where saddle and bar placement need to be positioned in a manner that allows the rider to power the bike within a range of accepted biomechanical parameters. For example, if the bars are too low, closing off a rider's hip angle, there will be restriction over the top of the pedal stroke reducing the ability to apply force and reducing power output.
Aerodynamics = The reduction of rider frontal surface area and shape in order to minimize resistive forces that inhibit forward motion. This is the final step of the process, and if you ignore the first two steps and go straight after aerodynamics, you will not have a successful outcome. I've spent a lot of time in the wind tunnel and velodrome working to optimize an athlete's coefficient of drag. There have been times where I've made slight tweaks to the position, but typically all that is left are items such as head/shoulder posture, elbow width, hand height, and equipment changes (ex. aero helmet, wheels, bottle placement). Anytime I've seen a complete departure from Sustainability & Power in order to chase aero, the process fails.